dxFeed Unusual Options Screener
Overview
dxFeed Unusual Options Screener is a powerful platform enabling real-time identification of unusual trades in option markets. It is a highly configurable unusual options activity (UOA) screening tool for defining UOA conditions that might interest your clients. 
We handle any data curation issues behind the scenes to offer organizations a sophisticated unusual options activity solution without any of the hassles.
This solution can be used to:
The specific underlying assets that are setting up for a move.
The likely direction of that move.
dxFeed Unusual Options Screener named Most Innovative Market Data Project
in the WatersTechnology 2022
Read More
How it works
In real-time, dxFeed Unusual Options Screener pairs options time, price, size, bid, ask, open interest, daily volume, and more with the stock price, trade volume, and other data. The screener filters out the noise so users can follow the smart money.
dxFeed Unusual Options Screener integrates real-time, high-quality price feeds provided by dxFeed, and uses dxScript, the company's proprietary scripting language, to define the specific unusual event criteria to be screened for with pinpoint accuracy. On top of that, it also incorporates dxFeed advancements in applied machine learning in finance, and provides an ML calculated unusualness score.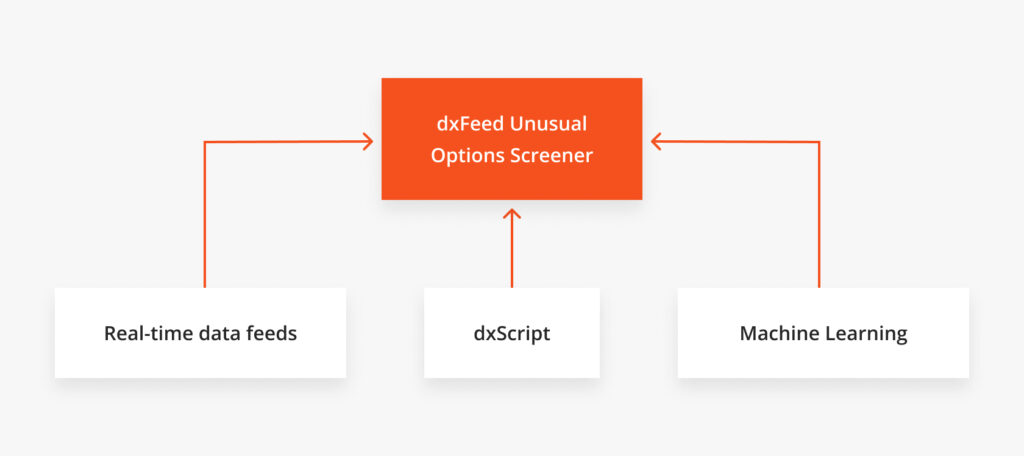 Features

Real-time OPRA trades processing and pairing underlying market data from CTA/UTP feed 

Unusual event criteria defined using dxScript
Proprietary artificial intelligence calculated unusualness score

Ability to fully integrate with other analytical solutions such as dxFeed Scanner and dxFeed Alert Service

Historical queries support
Artificial intelligence-powered filtration
dxFeed's research team conducted a machine learning study with unsupervised learning to identify unusual trades. For an option sale, one can define its potential profit as execution at maximal (for a call option; or minimal for a put option) underlying price over the lifetime of the option. The research was aimed at filtering out options with revenue magnitudes bigger than the paid premium. Trained over a sample of trades data, the final model has the area Under the ROC curve score at 0.99!