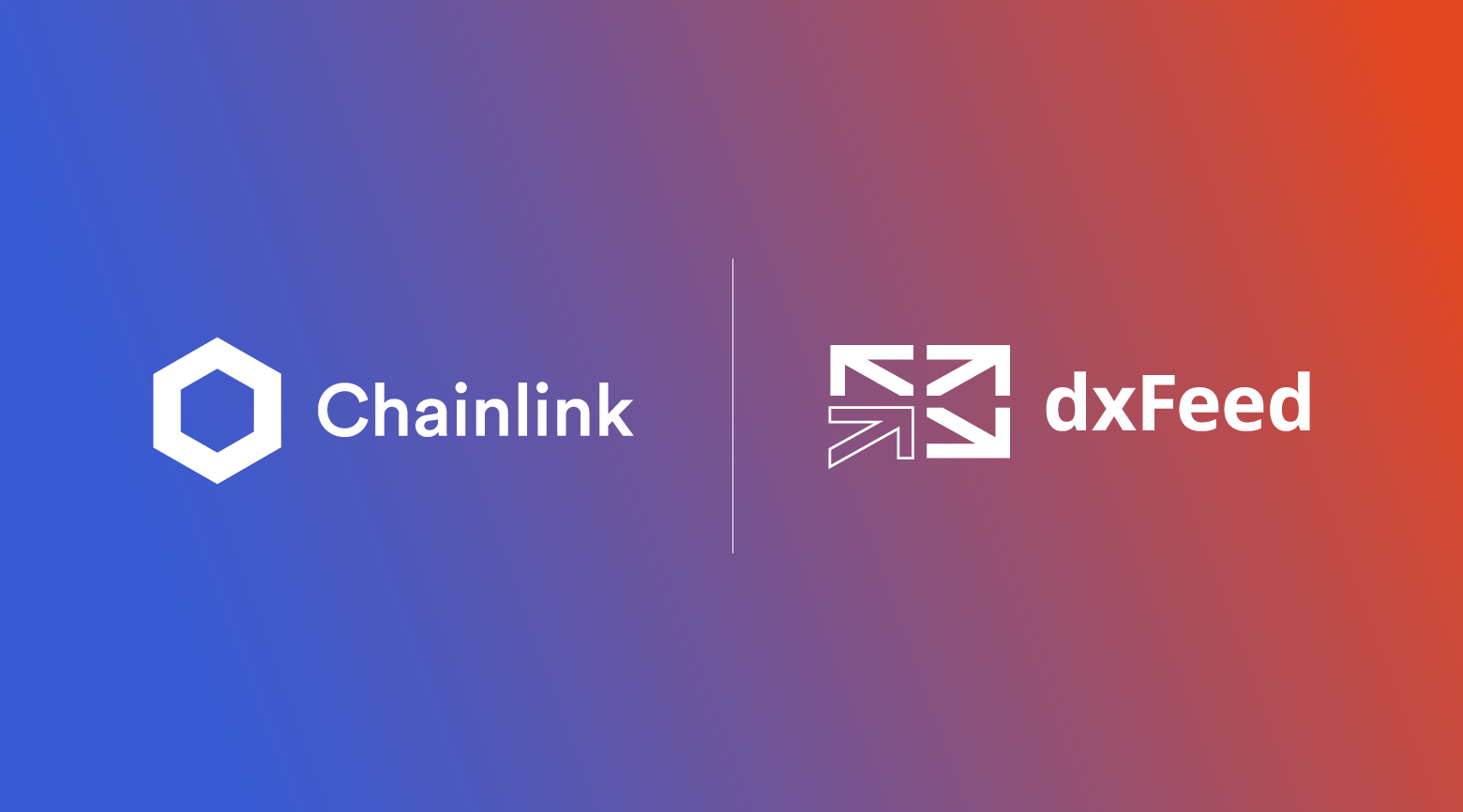 We are excited to announce that dxFeed will be launching its own official Chainlink node to sell our premium financial market data to smart contract developers operating across numerous leading blockchain environments. By joining the industry-leading Chainlink Oracle Network, we will use our Chainlink node to get our existing suite of APIs blockchain-enabled, enabling us to supply decentralized applications with a wide array of datasets used to trigger on-chain executions like derivative contract settlement, automated asset management, synthetic asset swaps, and more. Some of the initial datasets we plan to make available include the data from exchanges and OTC venues, allowing redistribution on-chain without extra licensing limitations, as well as advanced analytics for cryptocurrencies options such as implied volatility.
With the rapid growth of Decentralized Finance (DeFi), we see a significant opportunity in using Chainlink to make our data accessible amongst DeFi's many fast-emerging markets. Through the Chainlink node, we can seamlessly bridge our premium API data to any blockchain network, as well as enhance the integrity of our data by cryptographically signing it on-chain to prove it was sourced exclusively from dxFeed. Not only will this help to grow our business as a data provider, but it empowers us to actively participate in the creation of next-generation financial products that go on to redefine how people monetize and exchange value around the world.
Using Chainlink as a Gateway to DeFi Markets
dxFeed is a leading financial market data provider, delivering an unparalleled portfolio of cloud-based data solutions to institutions, traders, data analysts, quants, and portfolio managers. We offer access to an extensive list of real-time and historical market data across the United States, European Union, Turkey, APAC, Brazil, and other global markets. Our data ranges anywhere from U.S. and EU equities, futures, options, and indices data to forex, crypto, and spot energy prices, to name a few.
Our services are used by over 6 million end-users, including 200,000 simultaneous streaming clients, and power over 2.5 million financial instruments. Our primary infrastructure, the dxFeed Market Data Delivery Network, has an uptime of 99.98%, which is relied upon by leading international financial institutions such as TD Ameritrade, E*Ttrade, and tastytrade. The company delivers an unparalleled portfolio of data solutions. Among them are on-demand, real-time and historical market data services, reference data and corporate actions, "time machine" market replay, charting and aggregated data services and calculated data services. Also available are multi-asset pricing engines, market screeners and alerts, as well as a unique set of index automation and maintenance solutions which are all delivered via a wide-ranging and feature-rich set of APIs and UI tools.
dxFeed is proud to have some of the most recognized experts on the team. This has enabled dxFeed to develop one of the most advanced compression, storage, extraction and streaming protocol mechanisms in the industry; seamlessly combining efficiency, reliability and speed.
Leveraging our vast experience, dxFeed is primed to supply premium financial market data directly to smart contract developers and/or applications, supporting the creation of new, highly reliable on-chain DeFi products. However, because blockchains cannot inherently call external APIs on their own, smart contracts require a middleware solution known as a "blockchain oracle" to bridge on-chain applications and off-chain data. Oracles broadcast external data from API providers like dxFeed on to blockchain networks, where it can then be used by a smart contract to trigger an on-chain action such as executing a payment.
After examining different oracle solutions, we identified Chainlink as the most secure, reliable, and battle-hardened oracle solution in the industry. Chainlink's time-tested infrastructure not only provides a proven solution for delivering and signing external data on the blockchain, but it's already attracted a large network of data providers and data consumers relying on it to interact. Some of the unique features of the Chainlink Network that stood out to us as data providers include: 
Data Integrity – Our Chainlink node can cryptographically sign API data on-chain to verify its origin as being from dxFeed, preventing man-in-the-middle attacks. 
Blockchain Agnostic – Our Chainlink node is compatible with any blockchain, providing a single gateway to sell data to any current or future blockchain.
Widely Adopted – Chainlink is the most widely used oracle network in the blockchain industry, generating a large addressable market of potential data consumers.
Provably Secure –  Chainlink is thoroughly audited open-source software already proven to secure $10+ billion dollars in value, ensuring secure and reliable oracle services.
dxFeed plans to leverage these features to become an extremely reliable and trusted node operator on the Chainlink network, providing DeFi applications across multiple blockchains with a wide range of highly refined and cryptographically secured financial market data feeds.
"We're confident that our high standard for data quality and extensive industry experience as a reliable data provider will translate into becoming a leading Chainlink node operator," said Dmitrii Parilov, Managing Director of dxFeed. "We plan to use our Chainlink node to get our existing API data infrastructure quickly connected to key blockchain networks in order to start supplying smart contract developers with unique and well-refined data insights. Ultimately, this will empower developers to build new types of data-driven DeFi products, such as those around option markets and traditional equities."
About Chainlink
Chainlink is the most widely used and secure way to power universally connected smart contracts. With Chainlink, developers can connect any blockchain with high-quality data sources from other blockchains as well as real-world data. Managed by a global, decentralized community of hundreds of thousands of people, Chainlink is introducing a fairer model for contracts. Its network currently secures billions of dollars in value for smart contracts across the decentralized finance (DeFi), insurance and gaming ecosystems, among others.
Chainlink is trusted by hundreds of organizations to deliver definitive truth via secure, reliable data feeds. To learn more, visit chain.link, subscribe to the Chainlink newsletter, and follow @chainlink on Twitter.
Docs | Discord | Reddit | YouTube | Telegram | Events | GitHub | Price Feeds | DeFi | VRF
About dxFeed
dxFeed is a leading market data and services provider and calculation agent for the capital markets industry and, according to the WatersTechnology 2020 IMD & IRD awards honors, the Best Analytics and Technology Provider. dxFeed's primary focus is delivering financial market information and services to buy- and sell-side institutions in the global financial industry. This includes brokerages, prop traders, exchanges, individuals (traders, quants, portfolio managers), and academia (educational institutions and researchers).
Financial data is delivered from a variety of exchanges in North America, Europe and around the world. dxFeed's infrastructure spans six data centers in the United States and EMEA regions, with additional worldwide coverage through AWS cloud infrastructure.
Follow us on Twitter, Facebook and LinkedIn.
Contact dxFeed: pr@dxfeed.com