Analyze the whole market data universe
dxFeed Radar is a comprehensive technical and fundamental market analysis solution ready for integration with your infrastructure to provide an added value to traders and investors. It is a SaaS that allows your clients to easily perform different analyzing tasks.
2-in-1 scanner and screener service
As a market screener, it allows tracking the live market behavior.
As a market scanner, it allows searching for new trading ideas – finding the right instrument for investment and narrowing the list of thousands of instruments to the handful of the best trading assets.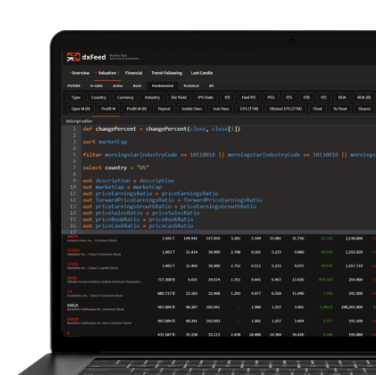 Why dxFeed Radar?
Alerting services
Unbeatable coverage
Zero footprint
Wide range of configuration options
Powerful proprietary scripting language
Easy integration with applications
Powerful instrument for traders
Custom search
Traders can build their own custom indicators directly in the web application using the flexible scripting language
Overview of the instrument
Main fundamental and technical data is available for each instrument
Alerting service
Сlients get real-time trading alerts
Presets
Built-in presets aimed at main trends are available
Build your own market screening tool
Choose regions
US, EU, Turkey, Worldwide
Direct market data feeds from various exchanges worldwide. We can add more data upon request.
Choose instrument types
Equities, Options, ETFs, Indices, Forex & Crypto
Low latency data feeds for all major asset classes through dxFeed servers located in closest proximity to exchanges.
Choose data sources
Live feeds, options analytics, fundamentals & indicators
Analyze tick and aggregated data provided by dxFeed (live feeds, options analytics, fundamentals & indicators) or power it up with your own data.
Choose indicators
SMA, EMA, WMA, MACD, RSI, CCI, Stochastic Full, etc.
An extensive range of market standard technical indicators built on historical or real-time data, market indicators, options parameters (such as Greeks, IV, and theoretical option prices), and underlying fundamentals. You can also build your own indicators with dxFeed scripting language.
Build unique UI
CUSTOMIZE OUR WEB UI OR CREATE YOUR OWN BACKED BY OUR SOLUTION
Our UI will be fully customized to your needs and designed to seamlessly fit your company's image. If you need complete design control, create your own UI connected to our SaaS backend.
Easily integrate
Hassle-free implementation
dxFeed Radar can be easily integrated without the need for costly development, licenses, and hardware investments. Reduce your time-to-market and costs by using our embeddable frontend or integrate directly to SaaS via API.