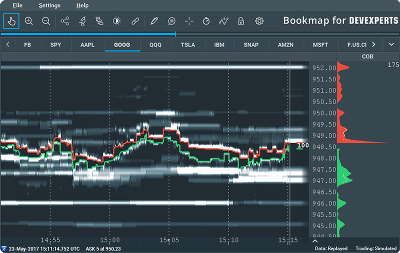 Bookmap for Devexperts opens up a totally new opportunity for equity traders to get faster and deeper insights into live market dynamics and short-term price action
Devexperts GmbH, developers of retail and institutional trading platforms and providers of cloud based financial data infrastructures, and Velox Pro, experts in market depth visualization, today announced the launch of Bookmap for Devexperts, a visualization tool based on real-time Nasdaq TotalView and Nasdaq Last Sale data that gives financial market participants a unique insight into the order book and trades for all US equities.
Bookmap for Devexperts is an innovative full order book pattern detection and analysis software, which visualizes order book using a gray scale heatmap. This way of full order depth visualization provides traders an enhanced ability to analyze market dynamics. It also allows them to detect patterns as well as assess the perpetual strength and weakness of different price levels. The product displays every tick within the order book, allows to zoom in to the highest possible resolution and analyze a single trade or order change.
Bookmap for Devexperts is powered by dxFeed, one of the US's largest and most sophisticated market data delivery services.
Dmitry Parilov, MD Solutions and Products, dxFeed: "Having opened the door for discovering market microstructure and full order book pattern detection and analysis, Bookmap's innovative paradigm to the visualization of critical data underlines our mission to deliver the best products to the global capital markets industry."
Terry Wade, SVP of Global Information Services at NASDAQ: "We are excited to see how our depth data is displayed in Bookmap and are sure that this new product will bring value to customers. Bookmap is a next generation market depth visualization technology that will help our end-clients to view and understand the advantages of Nasdaq TotalView and Nasdaq Last Sale data."
Tsachi Galanos, CEO of VeloxPro: "It has been our long-time desire to connect Bookmap to a high quality full depth order-by-order data of US stocks. Through our cooperation with Devexperts, we have the ability to deliver a reliable, full depth data, in the lowest latency, at a price suitable for individual traders."
For more information, please visit: dxfeed.com/dxfeed-bookmap.