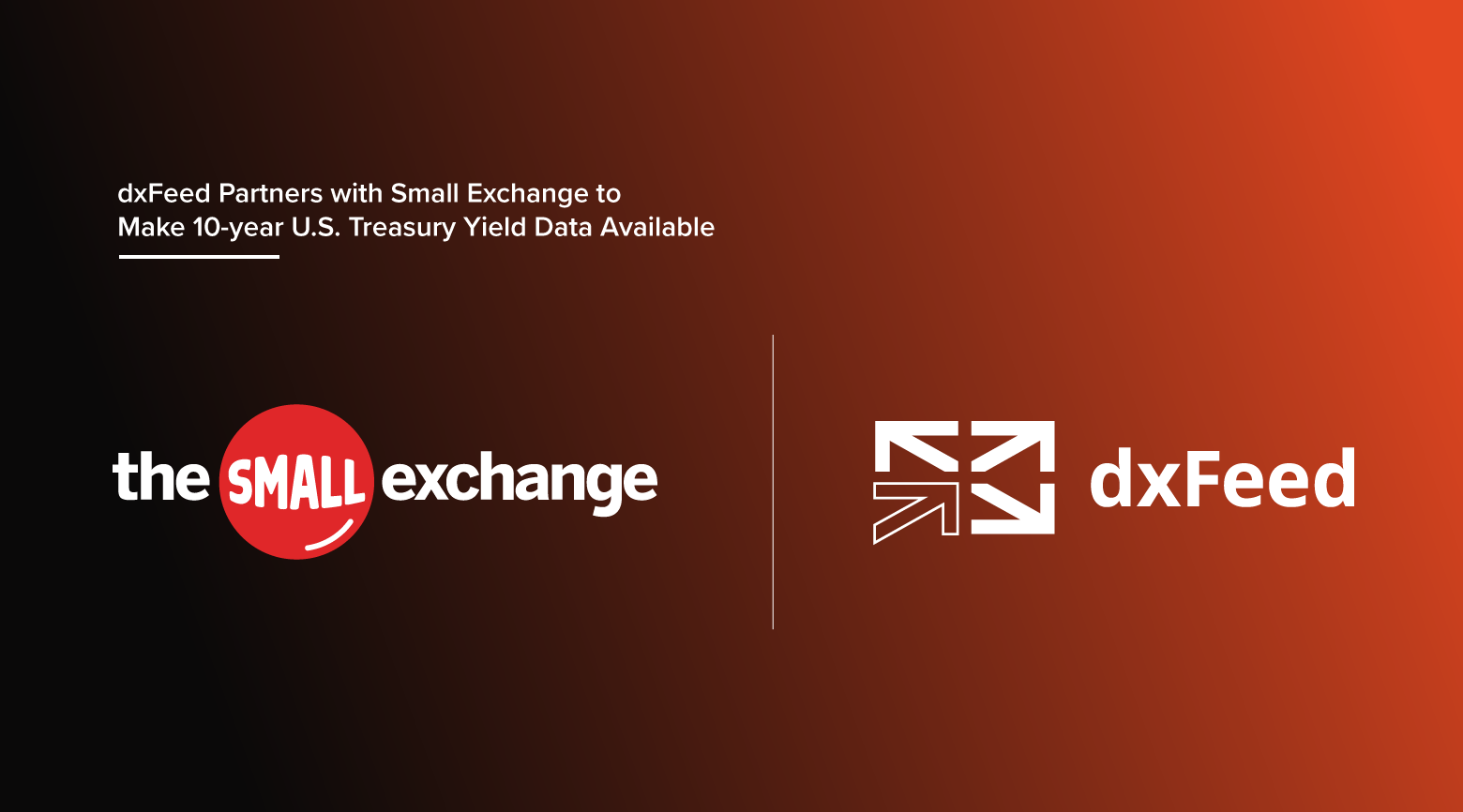 Traders, Both Large and Small, Now Have Access to Data and Can Leverage It for Their Analysis, Research and Wealth Management Needs
Chicago, IL & New York, NY, December 15, 2020 – dxFeed, a leading data solutions provider and calculation agent for the global financial industry, has announced an agreement with the Small Exchange, a futures exchange offering smaller, simpler products aimed toward retail customers, to provide market data for 10-year U.S. Treasury yields.
Developed specifically for the Small Exchange, the market index solution enables data analysis, financial research, and wealth management for retail and institutions investors.
The Small 10-Year U.S. Treasury Yield Index (S10Y) is based on the continuous yield of the on-the-run U.S. 10 Year Treasury Note and formally launched on December 7, 2020. The Index is expressed as the computed yield multiplied by 1,000. S10Y is the first product to afford customers the ability to trade treasury futures in yield rather than price.
"The Small Exchange is making futures markets accessible to more people," said Oleg Solodukhin, CEO of dxFeed. "We're using our ability to construct, maintain and calculate market indices and our deep capability and understanding of worldwide markets to help the Small Exchange and others develop and maintain their own products. dxFeed shares the Small Exchange's mission to further market access to every type of trader and investor."
"We believe in pushing the needle and innovating to enhance the accessibility of the futures marketplace. dxFeed is supporting our efforts to address the needs of traders of all sizes with new products," said Pete Mulmat, Chief Commercial Officer of the Small Exchange. "We will continue to drive the creation of products that are capital efficient, standard and simple."
dxFeed's turn-key Index Management solution saves time on index creation and management using methodologies with visual, easy-to-use, and self-documented entities. As a calculation agent, dxFeed collects the data, normalizes it, and provides a calculation engine that includes testing, weighting, and other capabilities. dxFeed takes care of publishing, distribution and integration with existing stack and external publishing and distribution firms.
In addition to the Small 10-yr. US Treasury Yields, the Small Exchange offers other dxFeed-enabled solutions, including the Small Stocks 75 Index comprising five sectors, with each sector containing 15 stocks.
About the Small Exchange
Based in Chicago, The Small Exchange – backed by award-winning industry innovators and powered by a proprietary trade matching engine – is a registered Designated Contract Market (DCM) with the Commodity Futures Trading Commission (CFTC). The Small Exchange's mission is to become the world's largest customer-centric futures exchange, bringing products that bridge the product gap for investors of all sizes by providing futures products that are smaller, capital-efficient, simple to use, and easy to understand for all participants. The company will facilitate the trading of exchange-created proprietary products for all types of market participants including, but not limited to market-makers/liquidity providers, Introducing Brokers (IBs), Futures Commission Merchants (FCMs), proprietary trading firms and hedge funds, all with a primary focus on the public retail customer. Please visit www.thesmallexchange.com for more information.