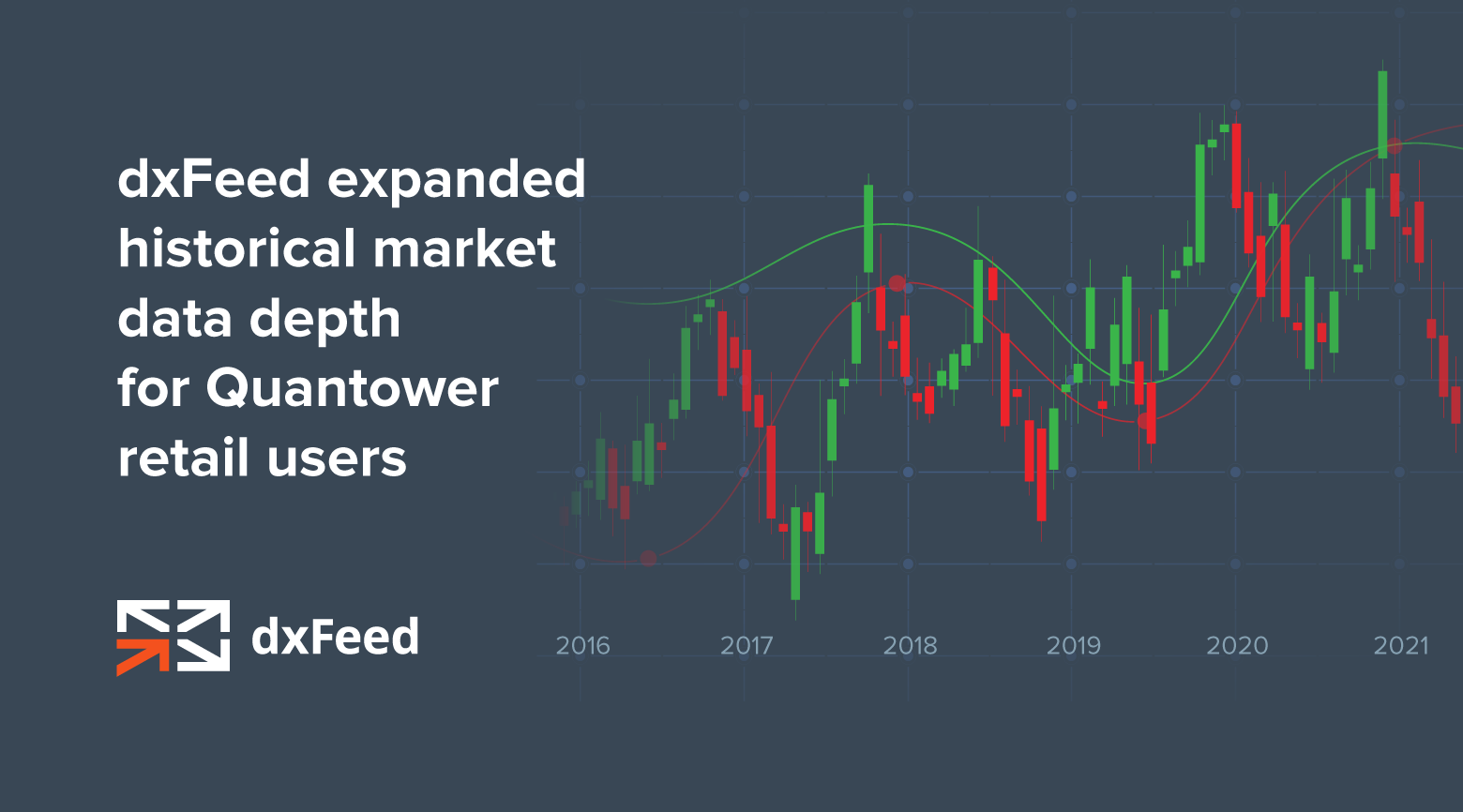 dxFeed announced it has extended the availability of historical market data for individual traders. Quantower is the first trading platform in the dxFeed retail partnership network that supports this update. Market depth availability for the other partner platforms will be updated soon.
New dxFeed historical market data depth for individual traders includes: 
Every tick data going back two years
1-minute aggregates going back up to five years
1-hour aggregates going back up to five years
Day aggregates: all available*
"We have received a large number of requests from our individual customers about the need to deepen the market data available in the dxFeed network," Dmitrii Parilov, Managing Director of dxFeed. "This data is used to predict price trends and calculate market risk for investment portfolios that an individual or institutional investor may own. And dxFeed is happy to satisfy the customers and even surpass the available offers on the market with this new feature."
The depth of historical market data access doesn't affect provision speed, which is uniformly operational for all data resolutions. This is possible thanks to dxFeed's development of the historical data transfer protocol, which uses a compressed factor technique to parse, index and store data in the proprietary Compressed Data Format (CDF). The algorithm gives compression from eight to 40 times. This feature is critical for fast access to large amounts of historical data.
"Good market data depth is quite standard and available in the B2B world. But not for individual traders," said Alex Bogdan, CEO of Quantower. "There is a crucial number of those who need access to deep historical market data among our clients. We are glad, that dxFeed is able to offer us quality and depth of market data that is superior to other offerings on the market. We believe our customers will value it."
(*) Note: Historical market data depth may vary depending on the exchange.
About Quantower
Quantower is a multi-asset, broker-neutral trading platform that helps to make smart and confident decisions. A wide set of professional features, in addition to the constantly growing list of supported brokers and data providers, turns Quantower into the universal and powerful trading instrument for various asset classes and strategies. Quantower was founded in 2017 by a team of FinTech experts, with headquarters in Dnipro, Ukraine.
Contact Quantower: info@quantower.com