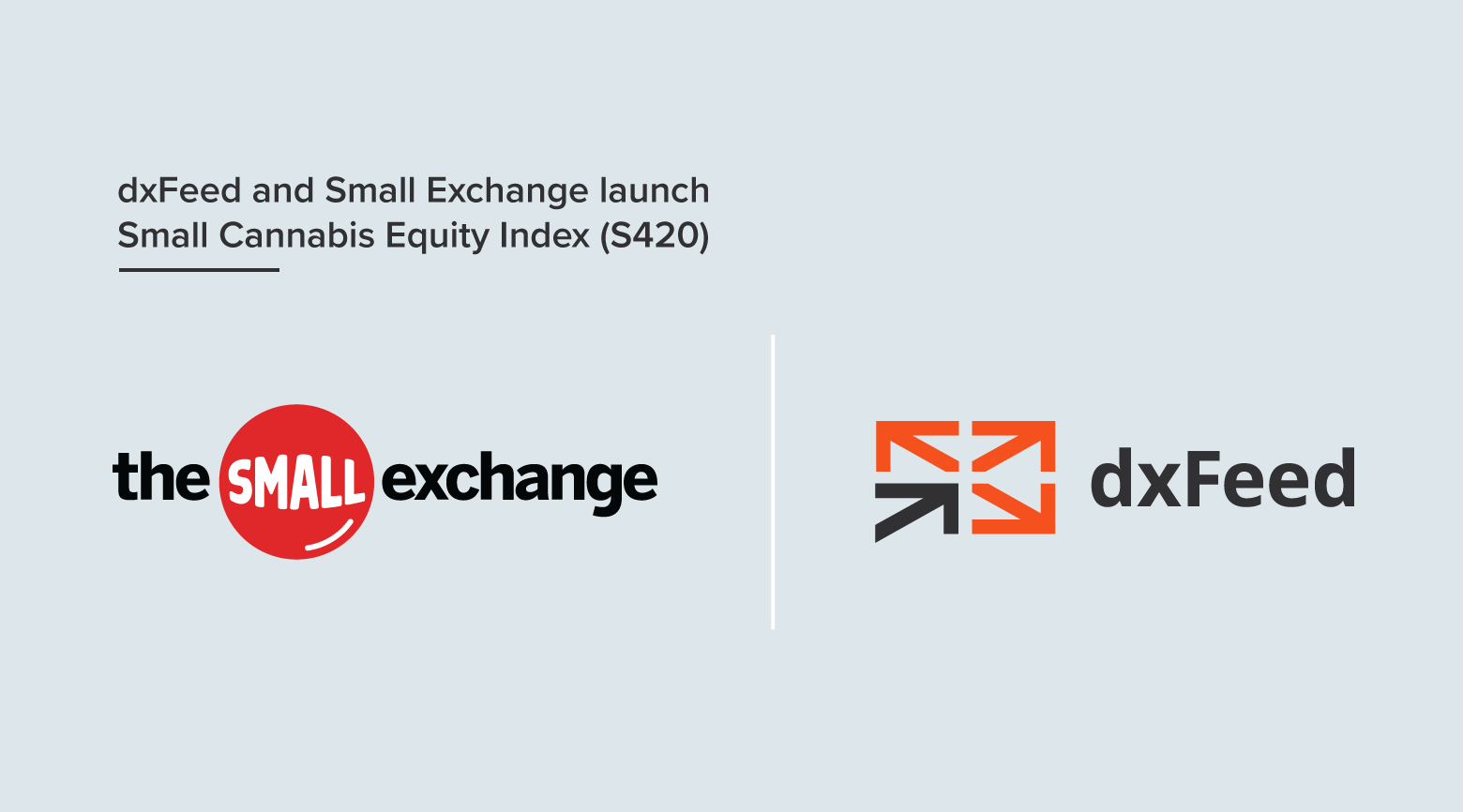 dxFeed in collaboration with Small Exchange, a futures exchange offering smaller simpler products aimed toward retail customers, has launched The Small Cannabis Equity Index (S420).
The Small Cannabis Equity Index measures the performance of companies involved in the cannabis industry. All equities are NYSE- or Nasdaq-listed. Symbols included in the index are expected to benefit from the increasing legalization and cultivation of cannabis. The index uses a modified equal-weighted methodology.
The value of the Small Cannabis Equity Index is equal to the sum of each component multiplied by the shares held in the index. An additional value in the index may result due to the removal of a symbol.
"S420 is the eighth in a set of indexes we have launched in a year. As a new exchange shortening time to market for innovative products is critical to maintaining our exchange volume and customer participation growth," said Pete Mulmat, Chief Commercial Officer of the Small Exchange. "We are thrilled to be partnered with a cutting edge firm like dxFeed who has the expertise to collaboratively build products and put them into the trading ecosystem quickly and efficiently."
"As a calculation agent, our primary purpose is saving our customers time on index creation and management doing all of the painstaking work," said Oleg Solodukhin, CEO of dxFeed. "dxFeed collects the data, normalizes it, provides a calculation engine that includes testing, weighting, and other capabilities. We take care of publishing, distribution, and integration with existing stack and external publishing and distribution firms." 
In addition to The Small Cannabis Equity Index, the Small Exchange offers other dxFeed-enabled solutions, including the Small 30 Year U.S. Treasury Yield Index, Small Dollar Index, Small Precious Metals Index, and others.
About the Small Exchange
Based in Chicago, The Small Exchange – backed by award-winning industry innovators and powered by a proprietary trade matching engine – is a registered Designated Contract Market (DCM) with the Commodity Futures Trading Commission (CFTC). The Small Exchange's mission is to become the world's largest customer-centric futures exchange, bringing products that bridge the product gap for investors of all sizes by providing futures products that are smaller, capital-efficient, simple to use, and easy to understand for all participants. The company will facilitate the trading of exchange-created proprietary products for all types of market participants including, but not limited to market-makers/liquidity providers, Introducing Brokers (IBs), Futures Commission Merchants (FCMs), proprietary trading firms and hedge funds, all with a primary focus on the public retail customer. Please visit www.thesmallexchange.com for more information.