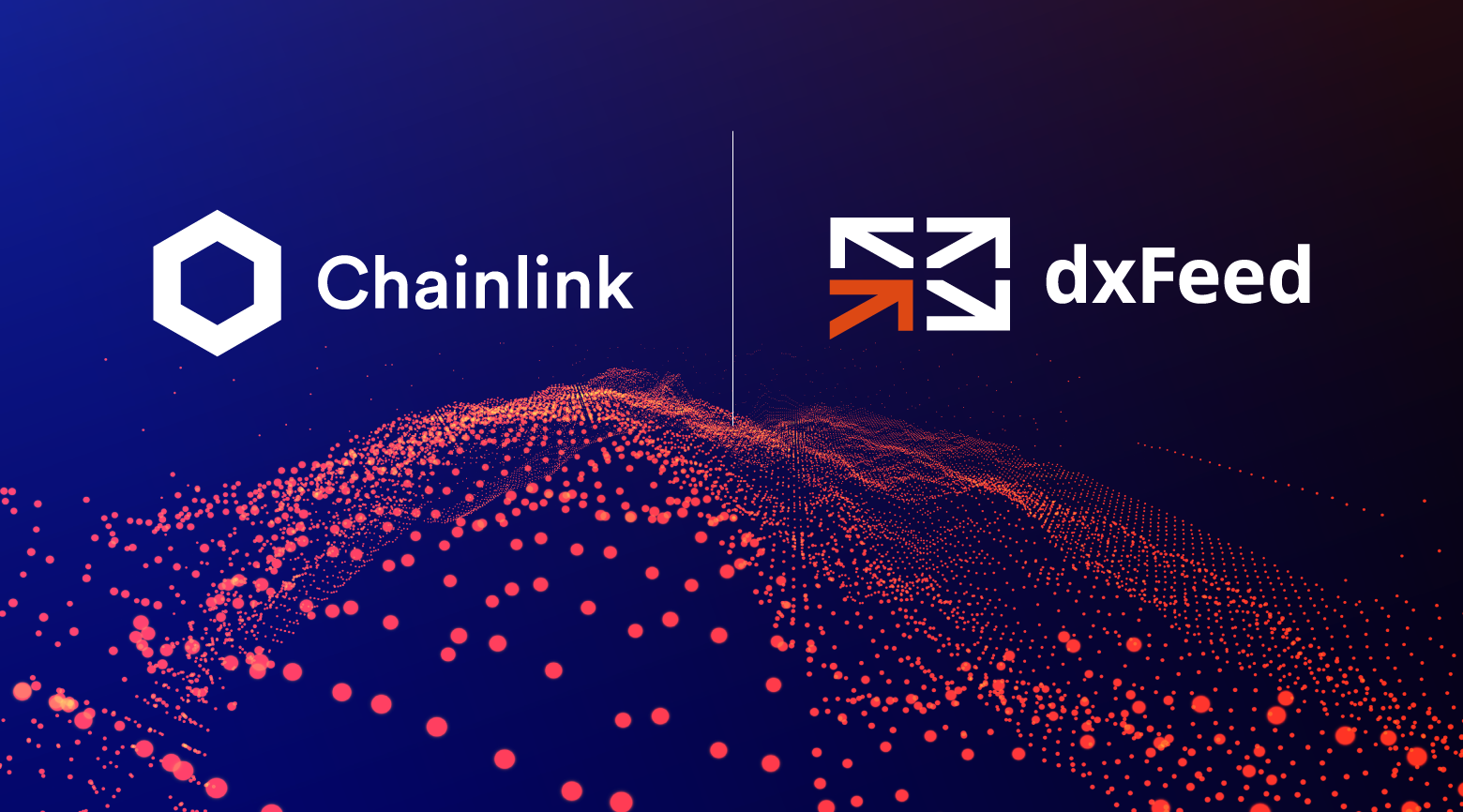 We're thrilled to announce that dxFeed has launched our own Chainlink oracle node live on mainnet to make our premium financial market data available directly on leading blockchain networks. The dxFeed Chainlink node will be used to sell developers and dApps a broad range of high-quality financial data, including on-demand, real-time, and historical market prices regarding a wide range of assets like cryptocurrencies, indices, forex, and more. 
As the most widely used oracle network in the blockchain industry, Chainlink was our go-to solution for getting our APIs blockchain-enabled, allowing us to quickly make our data accessible within the emerging DeFi economy. Not only does dxFeed Chainlink node act as a bridge to supply data to various blockchains, but it cryptographically signs our data so users have strong guarantees in its integrity as being from the dxFeed API without any possible tampering. 
The setup process for launching our Chainlink node was extremely simple, requiring no changes to our existing infrastructure while receiving all the benefits of fully accessing a new market of consumers. For more context on why we choose Chainlink to monetize our APIs for the blockchain industry, refer to our previous announcement where we explore the advantages in-depth. To learn more about the dxFeed Chainlink node and how to access our APIs on-chain, visit the developer documentation.
As a cloud-based data solutions provider, dxFeed provides an extensive list of real-time and historical market data across the United States, European Union, Turkey, Brazil, and other global markets, as well as reference data, corporate actions, "time machine" market replay, charting and aggregated data services, and calculated data services. Powering over 2.5M financial instruments for leading financial institutions, our data API infrastructure features a 99.99% uptime track record thanks to having the most advanced compression, storage, extraction, and streaming protocol mechanisms in the industry.
By supplying DeFi with accurate, cryptographically signed financial market data via the dxFeed Chainlink node, a wide range of applications can be constructed based on various real-world assets that users want to gain exposure to. Such applications could include derivatives contracts, synthetic assets, decentralized loans, automated trading strategies, algorithmic assets, and much more.
"After seeing the exponential growth of the DeFi economy, now was the perfect time to launch our own Chainlink node as a means of directly monetizing our ever expanding collection of premium data. Chainlink allowed us to quickly expose our API data to smart contract applications, providing us with both a bridge to leading blockchain networks and a way to prove the integrity of our data by signing it at the origin. This ultimately empowers the creation of the next generation of decentralized financial products based directly on high-quality data inputs from top data providers like dxFeed." —  Dmitrii Parilov, Managing Director of dxFeed.
"We're excited to see the launch of the dxFeed Chainlink node on mainnet, providing smart contract developers with a wide variety of premium financial data across numerous different assets and indicators. This enables the development of many new and exotic DeFi applications, further supporting the provisioning of a new decentralized financial system. — Daniel Kochis, Head of Chainlink Business Development.
About Chainlink
Chainlink is the most widely used and secure way to power universally connected smart contracts. With Chainlink, developers can connect any blockchain with high-quality data sources from other blockchains as well as real-world data. Managed by a global, decentralized community of hundreds of thousands of people, Chainlink is introducing a fairer model for contracts. Its network currently secures billions of dollars in value for smart contracts across the decentralized finance (DeFi), insurance and gaming ecosystems, among others.
Chainlink is trusted by hundreds of organizations to deliver definitive truth via secure, reliable data feeds. To learn more, visit chain.link, subscribe to the Chainlink newsletter, and follow @chainlink on Twitter.
Docs | Discord | Reddit | YouTube | Telegram | Events | GitHub | Price Feeds | DeFi | VRF