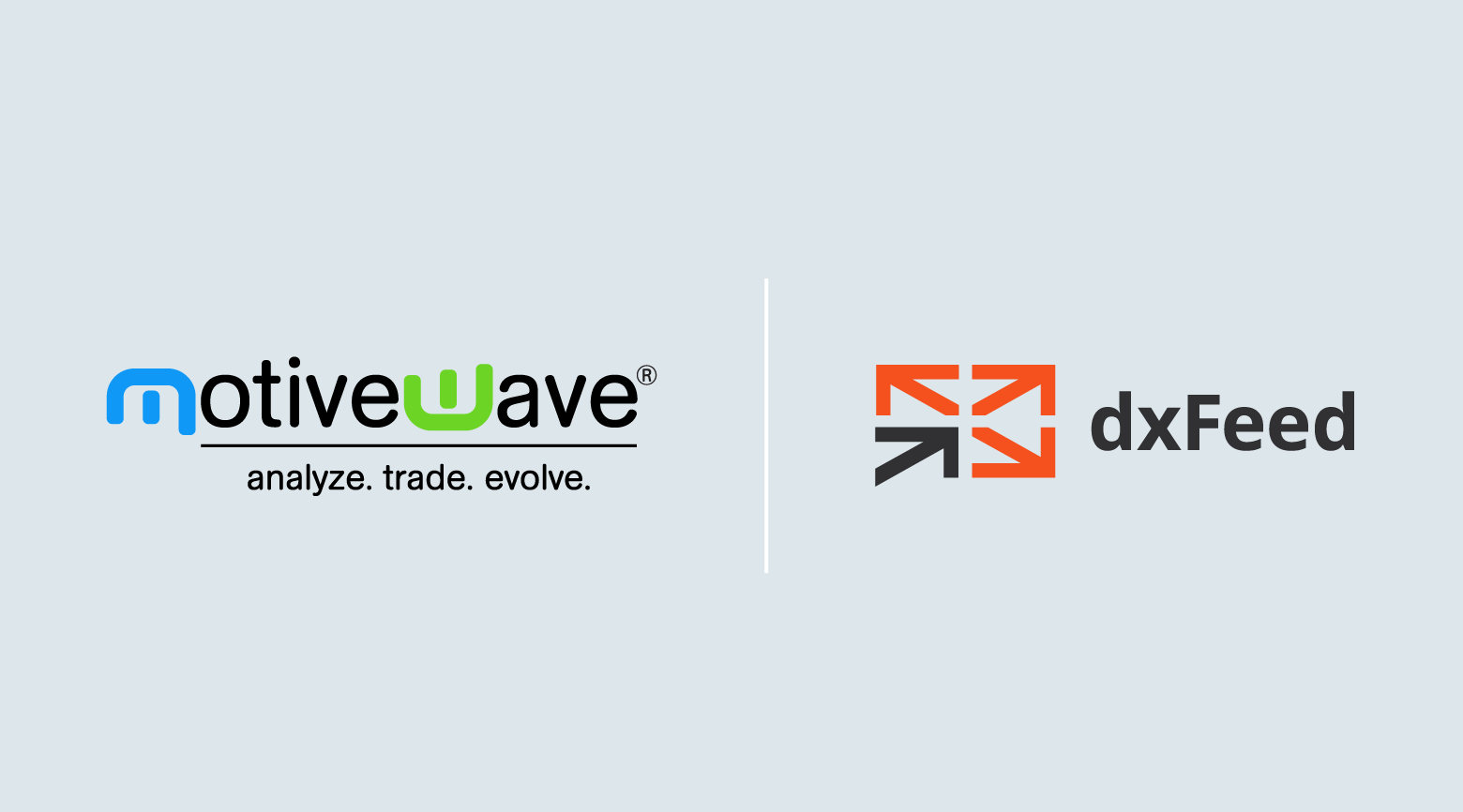 dxFeed has integrated its data feed into the MotiveWave software, a full-featured charting, analysis and trading platform built for individual traders. More than 10 subscriptions come directly from the essential U.S. exchanges, and the number of data feeds will be constantly expanded. The full list can be found on the dxFeed Retail portal.
This collaboration gives MotiveWave users access to real-time data with different depth: Top of Book (real-time Best Bid, Offer and Last Sale market data, known as Level1) and Full Market Depth.
MotiveWave was one of the first trading platforms of the dxFeed retail partnership network that supported access to new historical market data depth. So far, the following is available for MotiveWave users:
Every tick data going back two years
1-minute aggregates going back up to five years
1-hour aggregates going back up to five years
Day aggregates: all available
"We are grateful to MotiveWave for their trust and the opportunity to be among the first to open access to a new depth of data for individual traders," said Dmitrii Parilov, Managing Director of dxFeed.  "We guarantee to provide high-quality and low-latency real-time and historical data, which makes it possible to use volume analysis and other powerful functionality in the MotiveWave platform."
"Many of our customers need more profound access to historical market data than previously the market could provide specifically for individual traders. That is why we were looking for a reliable provider that could offer us the quality and depth of market data superior to other offerings on the market. We believe that our customers will appreciate it," —  Tony Lindsay, Founder of MotiveWave.
dxFeed has prepared one more generous gift for MotiveWave users, making up to 50% off on the market data feeds for the first month:
$49

$24 for OPRA. U.S. Options Composite

$69

$34 for U.S. Equities (Nasdaq TotalView) Market Depth

$99

$49 for CME Group (CME, CBOT, NYMEX, COMEX) Market Depth
You can find the full welcome offer here.
The offer is valid until August 12, 2021 and provides a 1-month dxFeed market data subscription at a discounted price. The standard monthly fees apply after the first month of subscription unless canceled. The offer is available for non-pro users only.
(*) Note: MotiveWave platform license needs to be ordered directly from MotiveWave.
About MotiveWave
Founded in 2010, MotiveWave Software is a well-established developer of easy-to-use full-featured charting, analysis and trading software built for the individual trader. "MotiveWave" has very advanced charting and drawing tools that are highly customizable and yet still easy-to-use, and also specializes in advanced analysis tools like Elliott Wave, Fibonacci, Gartley, Gann, Hurst Cycles and Ratio Analysis. Plus, MotiveWave has all of the features (and more) that you would expect in a professional standalone trading platform, including order flow, scanners, strategy trading, custom strategies, backtesting, optimization (genetic and exhaustive), replay mode, walk-forward testing, reporting, and trade simulation.
MotiveWave has a product to fit any budget and trading style and is available for Microsoft Windows, macOS, and Linux. MotiveWave Software is a privately held company based in Kelowna, BC with users worldwide.