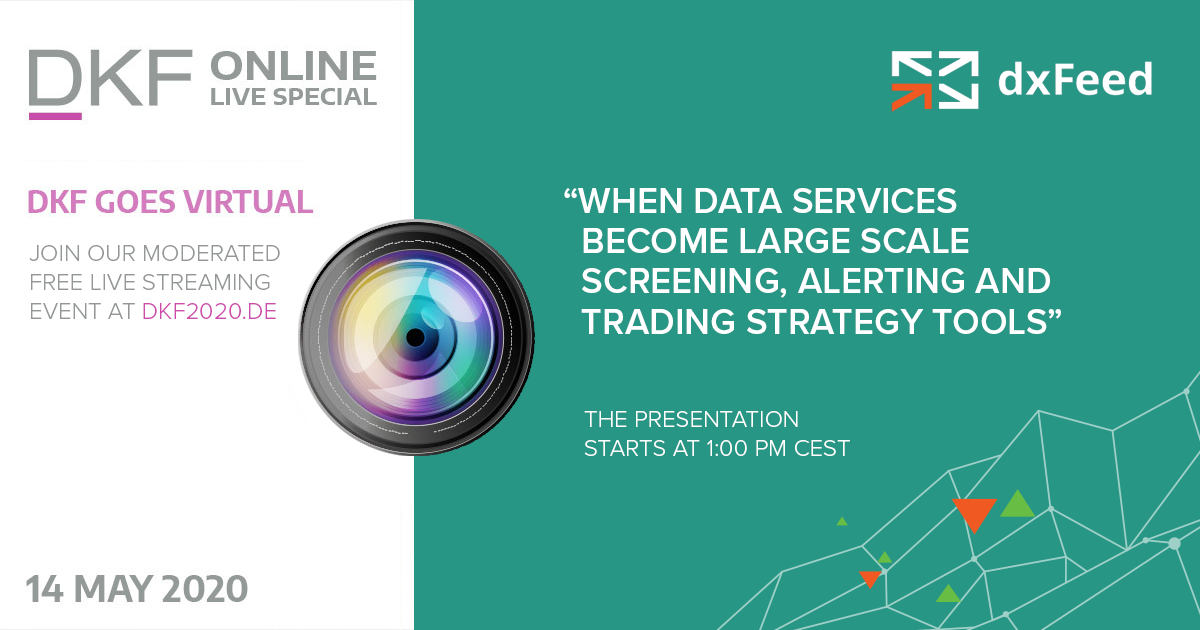 On May 14th, at 1:00 PM CEST, Antonio Goncalves, a dxFeed representative from the US, will be presenting at DKF on "Data Services as large scale screening, alerting, and trading strategy tools."
Register online for this free event here and add it to your calendar: https://registration.slideslive.com/dkf/
DKF is the premier annual event for the European financial services industry. Specialists from large banks, exchanges, market data providers, and institutional trading houses should be heading to Munich, Germany, this year. However, due to the isolation caused by COVID-19, DKF is going virtual, making it easier than ever to attend.
The central theme will be: "If the trading room is now in the living room, what does this mean for collaboration, IT security, and compliance?"
dxFeed has become known for democratizing market data access for retail audiences. This is a long-term initiative not only to advance the analytical terminals for end-users but also to educate them. In 2019, dxFeed's engineering team released dxScript, an intuitive scripting language, and our market screener, dxRadar, to offer them as missing features for investment businesses looking to add value for their end-users.
In this time of lockdowns and quarantines, people are doing more and more things online, and trading is no exception. Many brokerage firms have seen sharp increases in trading volumes since the end of March, and the trend hasn't slowed. Now is the best time to try collaboration tools, and to explore screening, alerting, and trading strategy tools.
Register online for this free event and book a time slot in your calendar: https://registration.slideslive.com/dkf/