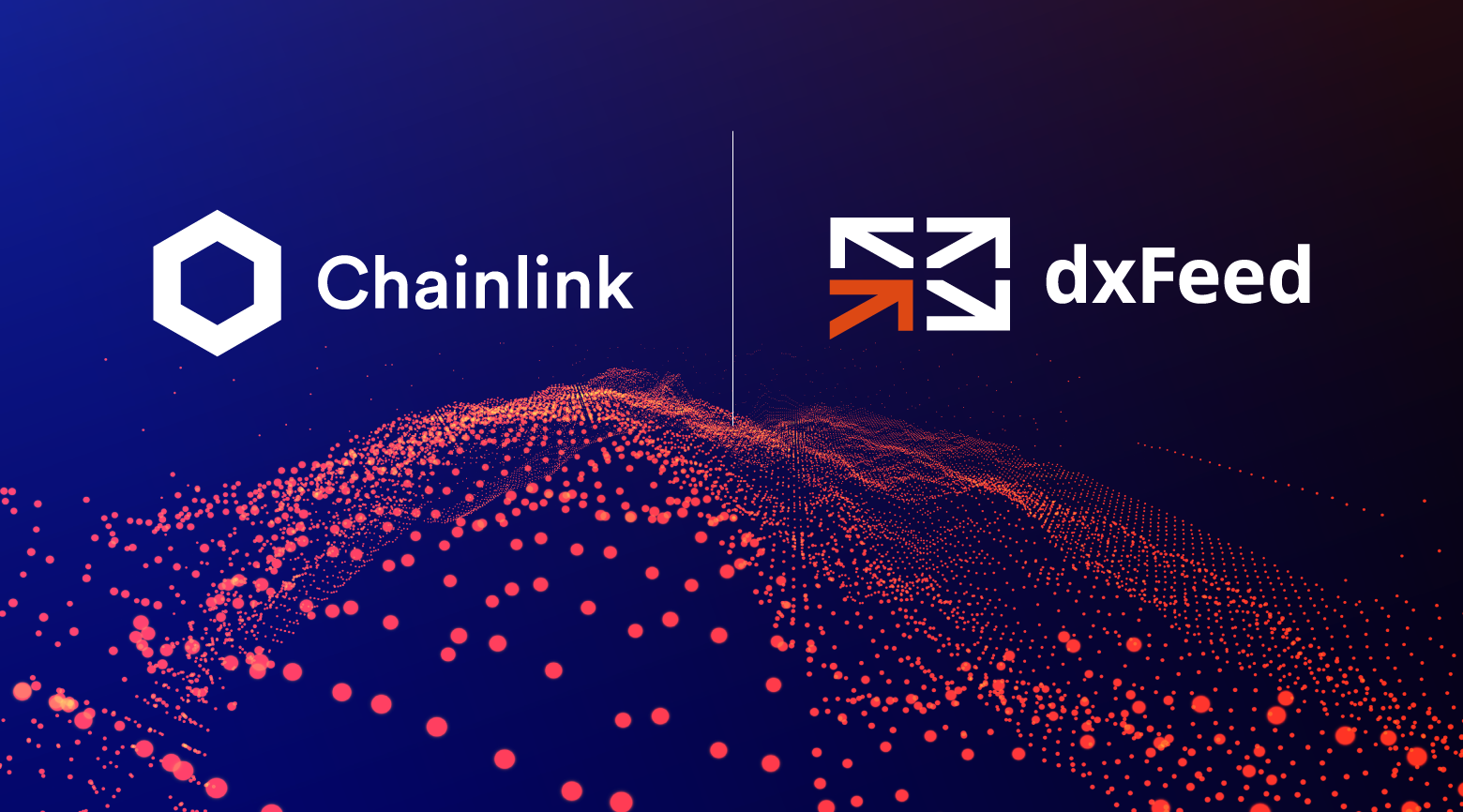 dxFeed, a leading financial data and services provider for the global markets, both traditional and crypto, is expanding the datasets made available on the Ethereum and Binance Smart Chain mainnets through our Chainlink node. Developers will soon be able to call the dxFeed Chainlink node to access BTC and ETH options analytics data, including implied volatilities for options markets. This comes in addition to real-time pricing data we currently offer for a range of equities and cryptocurrencies.
Our new advanced analytics data service offered through Chainlink will give DeFi developers highly refined options data, both at-the-money and VIX-style implied volatilities on BTC and ETH. 
In dxFeed option analytics solution we apply a model-free algorithm that works well on both low and high liquidity markets as well as in cases of high volatility. This algorithm allows us to provide: 
Prices that fit the market best
Arbitrage-free prices across an option class
Smooth price and volatility curves
We are working extensively with the Chainlink Labs team to validate the calculation methodology so that blockchain-based derivatives markets for cryptocurrencies can reliably price options contracts using enterprise-grade data. We plan to develop volatility calculations for additional tokens in the future as the options markets continue to evolve.
As a cloud-based data solutions provider, dxFeed provides an extensive list of real-time and historical market data across the United States, European Union, Turkey, Brazil, and other global markets, as well as reference data, corporate actions, "time machine" market replay, aggregated and calculated data services. Powering over 2.5M financial instruments for leading financial institutions, our data API infrastructure features a 99.99% uptime track record thanks to having the most advanced compression, storage, extraction, and streaming protocol mechanisms in the industry.
By continuing to supply DeFi with accurate, cryptographically signed financial market data through the dxFeed Chainlink node, a wide range of applications can be constructed based on various cryptocurrency assets and industry trends that users want to gain exposure to. Such applications can include options contracts, synthetic assets, automated trading strategies, algorithmic assets, and much more. We look forward to consistently expanding our on-chain datasets and feel confident our IV data will empower maturation in DeFi options markets.
P.S.
We know many companies have collected and retained data internally that has immense potential value and demand externally. Many of these companies even might not have realized they have the value that can be unlocked.
dxFeed can help get your data into blockchain dapps through Chainlink or via other Web3 enabled distribution platforms. Web3 is the generic term for delivery into blockchain. We are excited to help unlock value available from this new audience that otherwise would not be able to consume your unique content.
Let us show you how you can reach a new audience!
About Chainlink
Chainlink is the most widely used and secure way to power universally connected smart contracts. With Chainlink, developers can connect any blockchain with high-quality data sources from other blockchains as well as real-world data. Managed by a global, decentralized community of hundreds of thousands of people, Chainlink is introducing a fairer model for contracts. Its network currently secures billions of dollars in value for smart contracts across the decentralized finance (DeFi), insurance and gaming ecosystems, among others.
Chainlink is trusted by hundreds of organizations to deliver definitive truth via secure, reliable data feeds. To learn more, visit chain.link, subscribe to the Chainlink newsletter, and follow @chainlink on Twitter.
Docs | Discord | Reddit | YouTube | Telegram | Events | GitHub | Price Feeds | DeFi | VRF
About dxFeed
dxFeed is a leading market data and services provider and calculation agent for the capital markets industry and, according to the WatersTechnology 2020 IMD & IRD awards honors, the Best Analytics and Technology Provider. dxFeed's primary focus is delivering financial information and services to buy- and sell-side institutions in the global markets, both traditional and crypto. This includes brokerages, prop traders, exchanges, individuals (traders, quants, portfolio managers), and academia (educational institutions and researchers).
Financial data is delivered from a variety of exchanges in North America, Europe and around the world. dxFeed's infrastructure spans six data centers in the United States and EMEA regions, with additional worldwide coverage through AWS cloud infrastructure.
Follow us on Twitter, Facebook and LinkedIn.
Contact dxFeed: pr@dxfeed.com