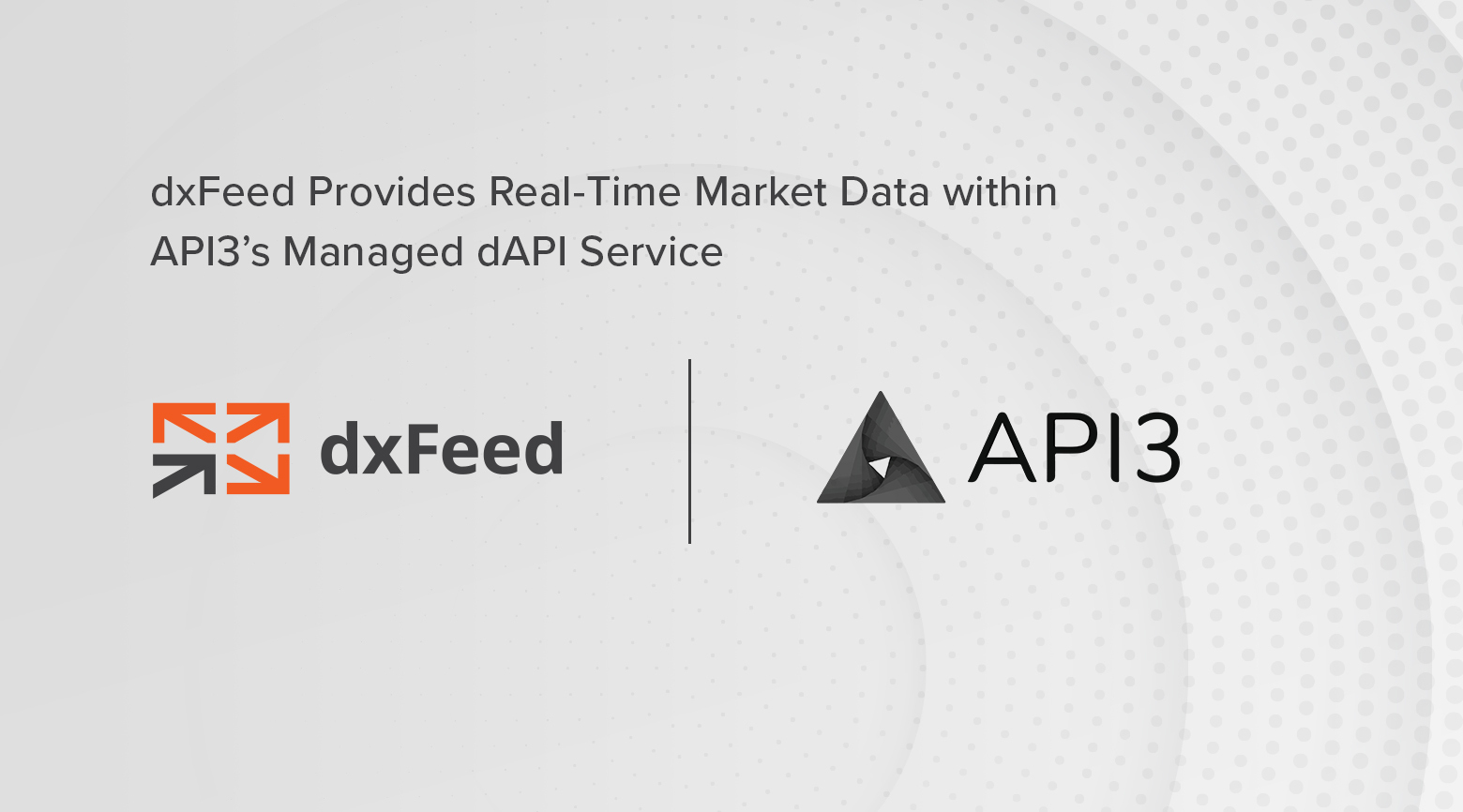 dxFeed will provide data within API3's managed dAPI service, as a prominent market data provider. This collaboration enables smart contracts to access real-time market data served on-chain in a first-party architecture, removing middlemen and offering a transparent and decentralized oracle solution.

With dxFeed's inclusion in API3's managed dAPI service, developers and builders can now access high-quality data directly from the source, ensuring accuracy and reliability for their applications.

"As we have planned at the beginning of the year, dxFeed is aiming to secure its leadership position in this yet pretty young and chaotic DeFi market, developing our own DeFi product further, and increasing the number of supported blockchain networks and exchange protocols," said Dmitrii Parilov, Managing Director at dxFeed. "By leveraging API3's innovative technology, dxFeed's real-time datasets, including asset portfolios, volatility, volumes, sentiment, and more across various asset classes, can be seamlessly integrated into decentralized finance (DeFi) and decentralized exchange (DEX) products."

dxFeed has a proven track record in the traditional finance (TradFi) sector, serving over 2+ million data points. This vast collection of data can now be adapted for on-chain DeFi and DEX products, providing valuable insights and enabling new opportunities for users. The partnership between dxFeed and API3 emphasizes API3 DAO's commitment to offering multiple first-party oracles with native-chain aggregation, further strengthening the robustness and reliability of the data provided.

"We've partnered with dxFeed for a while now, and are excited to welcome dxFeed to API3's managed dAPI service. By leveraging dxFeed's data suite, API3 can provide its users with access to high-quality and reliable data, which is crucial for various decentralized applications and services in the Web3 ecosystem." said Giovanni Lesna, Head of Enterprise and Partnerships at API3. "dxFeeds' expertise and extensive data offerings in the TradFi space make them an invaluable addition to our partner ecosystem. The collaboration between API3 and dxFeed signifies the continued growth and evolution of Web3 technologies, bringing advanced data services to decentralized applications and expanding the possibilities of blockchain-based platforms – dxFeed are vanguards in their own right."

dxFeed's participation in API3's managed dAPI service marks a significant milestone in the evolution of decentralized finance and the integration of real-time market data. With this collaboration, API3 continues to foster an open and collaborative ecosystem that empowers developers to build innovative decentralized applications.

About API3
API3 is a decentralized API provider that aims to bridge the gap between traditional Web APIs and blockchain smart contracts. By utilizing blockchain-native technologies, such as first-party oracles and decentralized autonomous organizations (DAOs), API3 offers secure, reliable, and decentralized data feeds for smart contracts. API3 is committed to building an open and collaborative ecosystem that empowers developers and enhances the potential of decentralized applications.