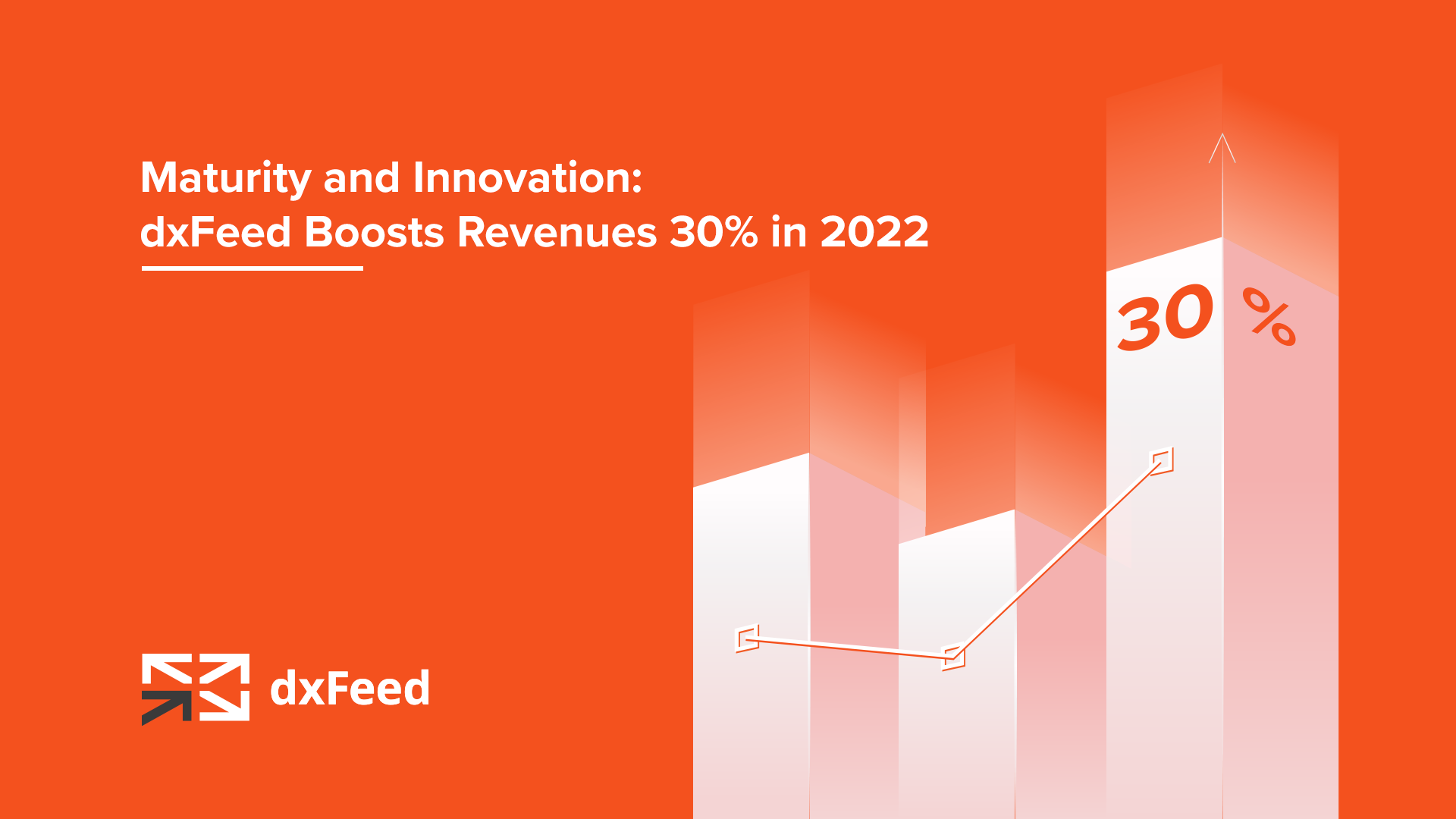 dxFeed has announced a strong growth of 30% in 2022, securing its leading position as a data solutions and index management provider for the global financial industry, both in traditional markets and crypto/DeFi space. The company has shown a stable trend of total revenue growth exceeding 575% over the last 5 years.

2022 was challenging for the financial industry, which manifested itself globally in market instability, recession, and the collapse of the crypto market. But, despite these circumstances, dxFeed continues to prove its business model has been stable for many years:
Stable double-digit growth over many years, with 2022 30% growth in the core business segment, augmented by increasing incubated business lines (index business, Crypto/DeFi, B2C/B2B2C/Retail).
Long-term client relationships spanning many years with more international clients choosing dxFeed as their provider and reliable long-term partner.
Significant growth of product portfolio in various areas and increased asset coverage.
"dxFeed's winning chemistry is in its ability to maintain a unique balance of building up maturity, which is especially important for large businesses, with tireless innovation and a vital ability to keep up with modern trends," said Oleg Solodukhin, CEO at dxFeed. He added, "In 2022, we opened the Trust Center to monitor the compliance and control framework and confirmed SOC 2 certification. At the same time, we were named The Most Innovative Market Data Project at the WatersTechnology Awards."

The Index Management business line has grown enormously, supporting collaboration with SEC-regulated exchanges. Also, as was announced a year ago, dxFeed released its own family of indices, starting with Bixie, a USDX Crypto-Twin, Honest Gold, and Crypto Ortho 500. The company plans to keep expanding its indices line and distributing them to key terminals in the USA and EU in 2023.

In addition to dxFeed's mature offering for centralized exchanges, the firm has launched a new DeFi data product for remaining market data dissemination from decentralized exchanges. In 2022, the company built its blockchain nodes infrastructure, improved high-performance historical data storage, and formed strategic partnerships with major players on oracles on-chain data distribution business. In 2023, dxFeed aims to secure its leadership position in this young market, developing the DeFi product further, and increasing the number of supported blockchain networks and exchange protocols.

The B2C/B2B2C/Retail data distribution business line has also shown good results and significantly increased the number of partners among 3rd party platforms. Moreover, dxFeed launched a turnkey offering for education companies and an exchange compliance solution for brokers to facilitate licensing.

As a market data provider, dxFeed has been observing an emerging trend, which might be explained by global market instability. Many companies request to have the infrastructure components handled for them and the provision of market data itself. In 2022, dxFeed launched several IaaS projects to help clients concentrate on marketing and promotional activities while dxFeed's team solves the technical problems related to market data delivery.

Own Historical Dataset is one of the challenges the company set for itself for 2023. The firm has built a completely new high-performance dxFeed Data Lake platform to serve as a foundation for the future generations of its historical data platform and retail data shop. Using the latest technologies will significantly accelerate historical data access for Institutional customers. Also, in 2023, the firm will keep working on a new generation of web widgets and web-based terminal software to simplify end-user access to dozens of unique value-added services from dxFeed.

Against the background of cuts in big tech, dxFeed has been building up its product team, increasing its geographical presence, simultaneously maintaining strong financial indicators. dxFeed is expanding its presence in the USA and Europe and opened new offices in the Middle East, North Africa, and Georgia. The new direct geo coverage for 2023 will include APAC markets (Hong Kong Australia, etc) and Canada.

Related news